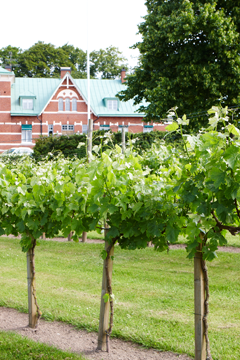 On the hills around the village Nagyrada, beautifully situated overlooking the little Balaton lake in Hungary, is our very own vineyard. Here we have been producing wine for more than 10 years. We currently have more than 110 hectares with an annual production of about 1 million litres. We produce red, white and rosé. Both still and sparkling wines. The facility is state of the art. Our grapes are picked with the latest technology, using harvesting machines. The grapes are gently pressed with pneumatic presses and then fermented in temperature-controlled steel tanks. Everything to make the fruitiest wines possible. Many of our wines are then stored in oak barrels for added complexity and character.
You have the opportunity to visit us if you are passing. Here you can see the facility, as well as try and buy wine in our shop. Hungary, and indeed Balaton lake, have in recent years become very popular tourist destinations. Not least for us Swedes for the latest season of "Mästarnas mästare" (the master's master), which was filmed right in our back yard.
We welcome you to discover the excitement of Hungary!