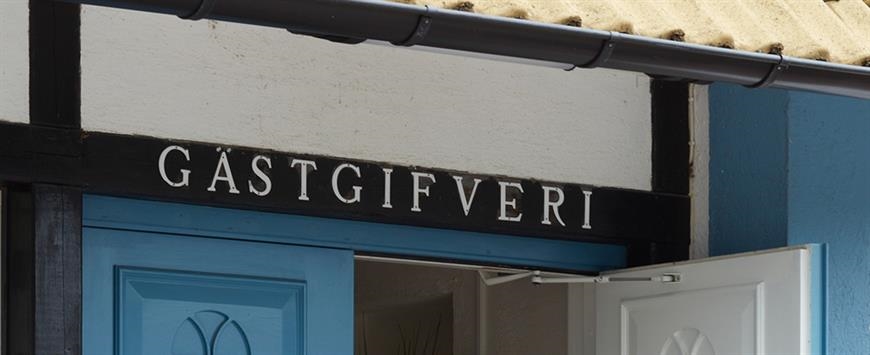 A calm and beautiful environment
Here you can find peace and quiet. You can relax in our beautiful tudor style farmhouse on the sunny side of Hallandsås. Margretetorp is located on the edge of a green beech forest, surrounded by a wonderful park.
Hotel
Margretetorp is, in its true sense, a Skånska inn. The hotel is built in the "tudor style" and all rooms naturally have beams in the ceilings. All guests have their own entrance from the two beautiful stone-paved courtyards with plants and rippling water. All 58 guest rooms are spacious and tastefully decorated, with great views of the park and surrounding areas. All our rooms are non-smoking, and we can offer special rooms for those who suffer from allergies or who are disabled as well as rooms where you can have your pet with you (for an extra fee).
Restaurant
The kitchen at an inn in Skåne has an obviously unique position and we think traditions should be followed - at least when it comes to food. The Skåne food traditions are very important for us, and our restaurant boasts delicacies from the local woods and fields. The kitchen follows the changing seasons and takes advantage of the best of local farm produce. In the spring we serve asparagus and salmon, at Easter, lamb, and in autumn, wild game like roe deer, deer, wild boar and pheasant. In November we of course serve goose with all the trimmings and throughout December we can entice with our large Julbord (a traditional Swedish Christmas buffet). We end the year with a tremendous Christmas and New Year celebration.
A large smorgasbord is laid out every day from April to November. In January-March, it is provided at weekends and for large groups. For information about other times, please call the head waiter and inquire via telephone 0046 431 45 44 50. Here you can enjoy delicious, homemade food in an authentic setting.
Read more about our Restaurant
Conferences
We can provide the perfect meeting environment with our eleven well-equipped conference and seminar rooms. Good coffee breaks. Beautiful surroundings to take bracing walks in. Large lovely guest rooms, with comfortable beds. And, of course, truly delicious food in a cosy and authentic setting. In the evening you can relax and sit down in the lobby bar and enjoy the crackling fire. Parties? You can choose as you like. We have many fun activities to offer.
Read more about our Conferences