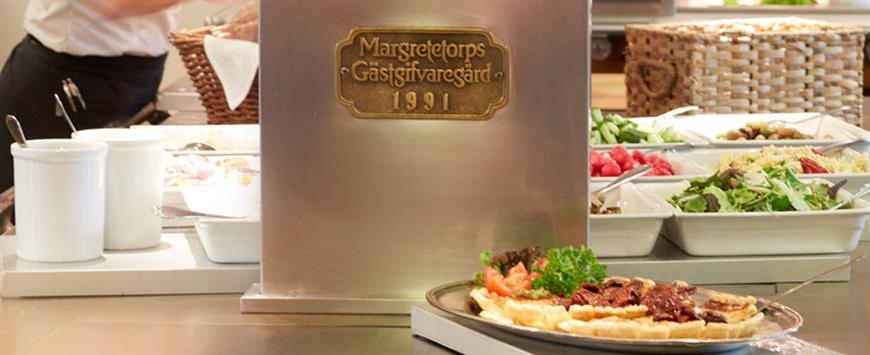 Taste our Scanian smorgasbord lunch and round it all off with sweetmeats from all around the world.
Homemade bread, salmon, herring, cold cuts, hot dishes and desserts - a smorgasbord which will fill even the hungriest of guests. For decades we have served thousands of lunch guests, and we will continue our tradition of serving smorgasbords for couples, conferences and friends. We make everything from scratch and what we cannot make ourselves we principally order from local producers, always with quality and the environment in focus. Moreover, you can take a small shot of snaps with the herring, which also is made by us. There is no risk of going hungry at our table. Just be sure to save room for the dessert buffet, because we are sure that you have not experienced one like this.
You can find everything from chocolate balls and pannacotta to delightfully summery strawberry cake. Understanding how to make excellent desserts has been a house specialty for many years, and was taught by the late Jan Hedh - a world celebrity in the confectionery industry.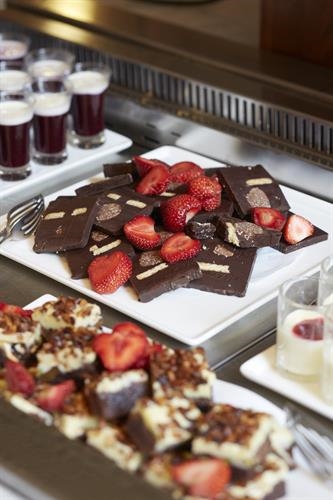 Price:
450 SEK including coffee
Children 1-12 years, 25 SEK/year
To reserve a table please call 0046 431 - 45 44 50, and press 3 for the restaurant.
Smorgasbords is served 10th of January - 18th of June
Saturday-Sunday        11am- 3pm
The smorgasbord is served from 10th of August:
Saturday – Sunday, holidays   11.30am – 3.00pm
Every day                                     5.00pm - 9.00pm
(The smorgasbord is not served 15th November- 31st December due to the Christmas market and Julbord (Christmas buffet) periods.
The art of eating smorgasbords
The overview is important. Here at Margretetorp there is always a central herring area, a large section of cold cuts, hot dishes separately, a salad buffet, cheeseboard and desserts of all kinds. A smorgasbord should not be eaten quickly - the inn and the old-fashioned environment provides the atmosphere for a long meal, conversations about numerous things and room for the most amazing stories. You can take it easy, resting between dishes, going around and taking a peek at the house. You should take small samples of the things that look the most interesting, immerse yourself in the best dishes and give in to your passions.