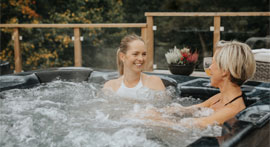 Outdoor hot tub 
At our fantastic back in the garden with a amazing view over the beautiful nature is a decking with two hot tubs for our guests to use. 
The hot tubs is in connection with our sauna where there also is a dressing room.
The hot tubs are not bookable. In the front desk you can borrow a rob before you go out to the hot tubs. Margretetorp gästgifvaregård take no responsibility for any valuables.
Sauna
Our sauna is available for our guests, not bookable but utilized in terms of location.
The sauna and dressingroom is comon for women and men.