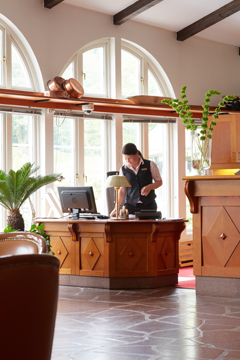 We think it is important that you can focus on your meeting and feel you've had a rewarding day when using our facilities. Therefore, we have our conference hostess who will take care of you throughout your stay. She welcomes, guides you to the room and is then available throughout the day in case you need to change the snack time or photocopy the day's program at the last minute.
The conference hostess helps with everything from the coffee and biscuit break to rearranging the furniture during the break or helping with the technology if needed. You can be sure that here you have 100% service.
Before you arrive, it is Josefine who takes care of all the details. She makes sure that you can feel confident that everything is planned and clear prior to arrival. She can help with both finding suitable activities and provide suggestions for the wine with the evening meal. Never hesitate to contact us, we are here for you.